ASPHALT PAVING
SERVICES
We're driveway experts. We handle the entire project from start to finish, so the work will get done quickly and with consistent quality.
Our experienced staff is prepared for nearly every paving situation. We put our experience to use in every job we do. From initial bid to final clean-up, you can expect the finest service and materials.
Since we've been in business for more than 45 years, our paved driveways and parking lots have been time tested, and we've been fortunate to get re-acquainted with several customers as their driveways are ready for a re-do more than 25 years later.
Why use Hot Asphalt?
Less expensive than concrete
Durable; less subject to freeze/thaw cycles
Smooth consistent surface
Helps melt snow and ice in winter months
100% recyclable materials
Our Capabilities
Our experienced work crews handle both residential blacktop driveways and commercial parking lots and driveways. Our full complement of products includes: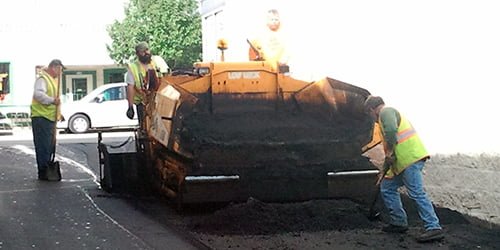 Replacement Driveways
When properly constructed and cared for, asphalt driveways last through many years of service. However, every product has a life expectancy, and this is as true for asphalt driveways as for anything else. When a driveway reaches a certain level of deterioration, the best remedy is to remove it, rebase it (add additional limestone if necessary) and install 2″ to 4″ of new asphalt depending on the traffic volume. This provides the home with a new driveway. Keep the same configuration and layout of your driveway or consider changing the flow through your property. Either way, new driveways are our specialty and we'd be happy to help you.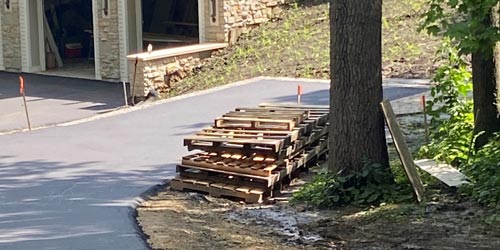 New Construction Driveways
Often clients need a new asphalt installation for a new driveway, a new turnaround, or for recreation adjacent to an existing driveway. We call a project like this new construction and requires several steps. We need a thorough understanding of your objectives as well as an evaluation of the site for drainage, contours and other variables that might affect the installation. After reviewing the site and goals, the second step is the excavation and removal of topsoil as needed. This is followed by the spreading, grading, and compaction of #304 limestone to create a sound and durable base. The fourth step is the paving and compaction of the asphalt to a predetermined thickness of 2″ to 4″ depending on the traffic load. The final step, as in all our work, is ensuring that we have met your expectations.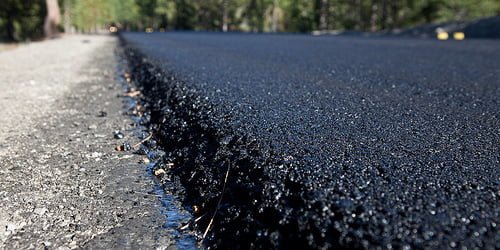 Overlays of Existing Pavement
Many homeowners, especially in rural areas, initially opt for a simple gravel driveway. However, over time the disadvantages of this solution become apparent, and they seek a better solution like having the driveway paved. Since gravel driveways have often been in place several years and, since several loads of gravel have usually been brought in to rejuvenate it, a stone base has been established. However, asphalt requires a specific type of stone, and most gravel driveways are a mix of various other stone types. Unfortunately, some of these stones prevent sufficient compaction to create an appropriate asphalt base. But they do create a base for us to build on. During the grade and pave process, the top layer of existing gravel is leveled and the grade is set. Our pave base limestone is brought in and the area is again leveled and graded to ensure proper drainage. Next the area is rolled to produce a solid base. Finally, 2″ to 4″ of new asphalt is installed depending on the traffic load.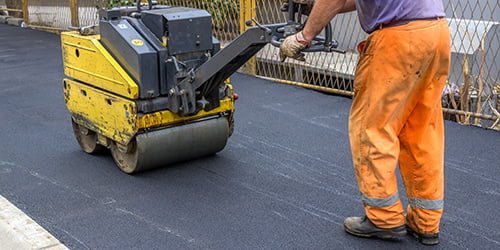 Commercial Parking Lots
As with driveways, a properly constructed and cared for asphalt parking lot will last for many years. However, at some point, the paved surface will reach a certain point of deterioration, and the best remedy is to remove it, rebase it (add additional limestone if necessary) and install 2″ to 4″ of new asphalt depending on the traffic volume. This provides the business with a new driveway or parking lot.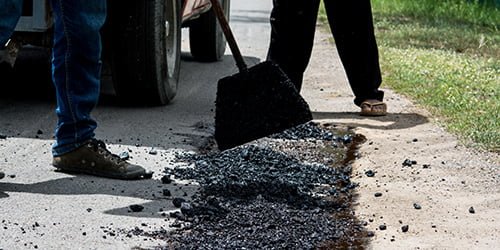 Asphalt Patching & Repairs
Our forte is new or replacement driveways, but we also have complete capabilities to service existing paved areas meeting certain criteria by patching or repairing the existing asphalt. We can remove a specified area and replace with a level patch. Obviously a perimeter around the patch will show, but we try to make blend in as much as possible by making it level with the rest of the driveway or parking area.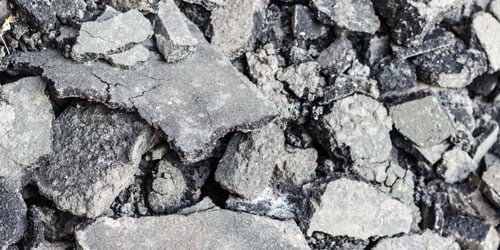 Recycled Asphalt Driveways
Many homeowners, especially in rural areas, initially opt for simple gravel driveway. However over time the disadvantages of thie solution become apparent and the yearly call to have their gravel driveway re-graded due to snow plowing or washing from rain storms gets old. Consider a Recycled Asphalt Driveway at roughly a quarter of the price of Hot Mix Asphalt. Recycled asphalt has properties similar to gravel and can in no way be considered similar to Hot Mix Asphalt. However it is better than crushed limestone gravel. You will eliminate that nasty dust cloud that accompanies every car in the summer and it also helps with melting snow in the winter. It will compact more than gravel in heavy use areas but can still feel loose like gravel in non-impact areas.
Contact Us for a Free Estimate!